China is the main global catalyst regarding innovation and technological development. In this context, last 8th of December a signature ceremony was held online to open the Taicang's High Technology Area Innovation Centre in Suzhou from the consulting firm Peninsula Corporate Innovation. He Yonglin, member of the Permanent Committee of Taicang's Municipal Party Committee, signed the agreement with Simón Lee, Peninsula Corporate Innovation Suzhou's director.
Suzhou, China, 17th of February 2022 – Peninsula Corporate Innovation Suzhou will work closely with innovative companies to accelerate their development within one of the world's top markets. China opens the door to widen and increasingly value the observation and technological scouting that accelerate clients' innovation. Nowadays, Suzhou is the seventh Chinese city with the highest GDP right after Shanghai, Beijing, Guangzhou, Shenzhen, Chongqing, and Tianjin. In 2025 Suzhou aims to become the world's cradle of innovation with a deep integration between AI and real economy.
Last 8th of December the agreement signature ceremony was celebrated remotely, with the presence of He Yonglin, member of the Permanent Committee of Taicang's Municipal Party Committee, Peninsula Corporate Innovation Suzhou's Managing Partner, Andrés Manso, and Peninsula Corporate Innovation's CEO, Simón Lee.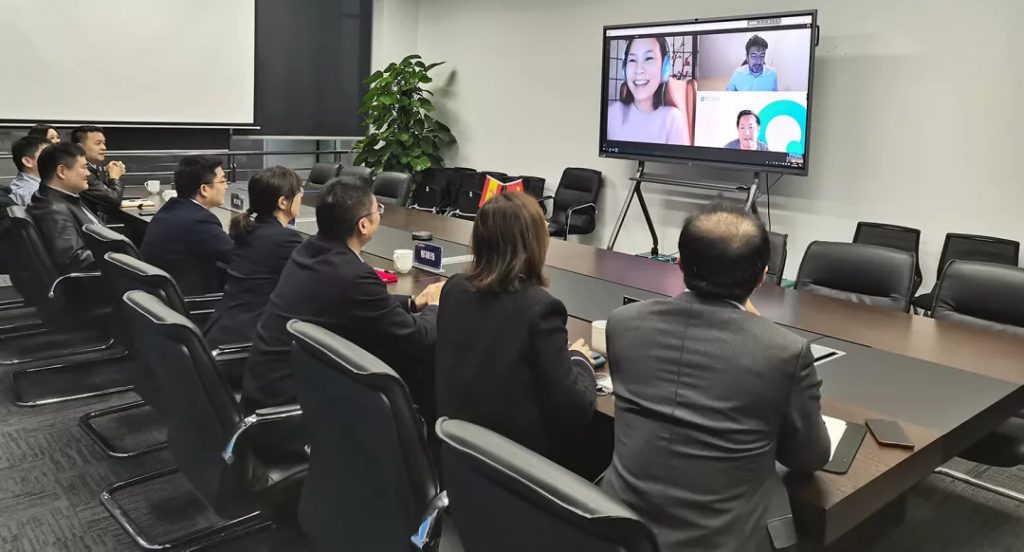 Different confluences point to China as the global leader in innovation and technological development.
One out of three unicorn companies in the world are Chinese. China represents 20% of the world's total R+D spending, being the second biggest editor of scientific research articles and the main global provider of engineers and PhD.
The consulting company PwC predicts that, by 2030, artificial intelligence will contribute to a 26% increase in China's GDP. In the case of fintech, investments have fostered a rise in the value of mobile payments in China up to $790 billion; 11 times more than in the USA. In the case of electric vehicles, China is the biggest market in the world.
In Suzhou, where Peninsula is located, there is the largest concentration of Chinese companies in the aerospace and biomedicine sectors.
Observing to secure enterprise landing
Entering China can be a key decision for some companies. Peninsula Corporate Innovation Suzhou will activate its observatory and technological scouting to analyse sectorial, disruptive, and cultural aspects of business success, as well as the main challenges of innovative companies in the Chinese market, regularly and in a customised way.
At the same time, in this analysed context, Peninsula Corporate Innovation Suzhou will yield an integral enterprise landing platform in China, so companies can evolve quickly and with a minimum risk.
The new Peninsula Corporate Innovation Suzhou centre is located 40km away from the centre of Shanghai, on the fifth floor of the German Centre building in Taicang. In its first phase, it has 2000m2 divided into 14 spaces, and the first two are already occupied by German companies. The Chinese Government has invested 1.24 million euros in this project.
Thus, Peninsula Corporate Innovation's consulting activity is expanded, with technological surveillance and open innovation services through programs with start-ups that facilitate the execution of pilot projects. It has over 30 entities and public agencies among its clients, and dozens of corporations, among which several IBEX35 companies: Aena, Fluidra, CaixaBank, Mapfre or Naturgy. It is the Startup Europe's Spanish Ambassador, and it has been recognised as the fourth business entity in terms of collaboration with universities according to the UBI Index ranking.